Our Story
Our Story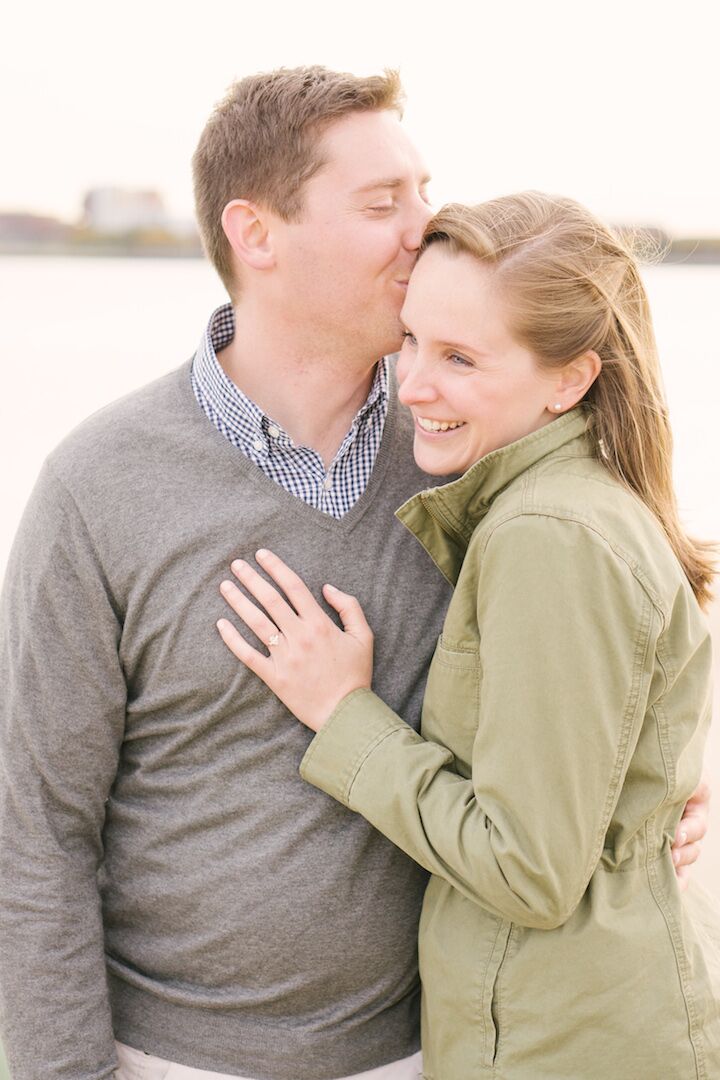 Taylor and Emily met in the fall of 2007 in South Dormitory at Hamilton College in Clinton, NY when Emily was Taylor's Resident Advisor. They only had one semester that overlapped as Taylor left for his junior spring in D.C. and Emily spent her entire junior year abroad the following year.
Fast forward to Spring of 2015 at the Hard Rock Cafe in Boston, during a Hamilton Alumni Event, and Taylor was the first person Emily saw when she walked through the door. They chatted briefly, then returned to their friend groups to dance the night away. At the end of the night, a mutual friend suggested that they should go on a date. After they both agreed, Emily looked Taylor in the eyes and said "I'm serious, I think we should go out on a date." Taylor replied "I was serious too." After confirming that they both still had each other's numbers saved in their phones all these years later, Taylor immediately texted and asked Emily to dinner the following week. It is a heated debate as to who asked whom out first....Their first date was in Central Square, Cambridge and they have been dating ever since.
After almost two years of a trans-atlantic relationship, Taylor unexpectedly popped the question during a long hike at the top of Caribou Mountain in Maine. They are excited to start the next chapter of their lives together in South Boston as a married couple.
The Wedding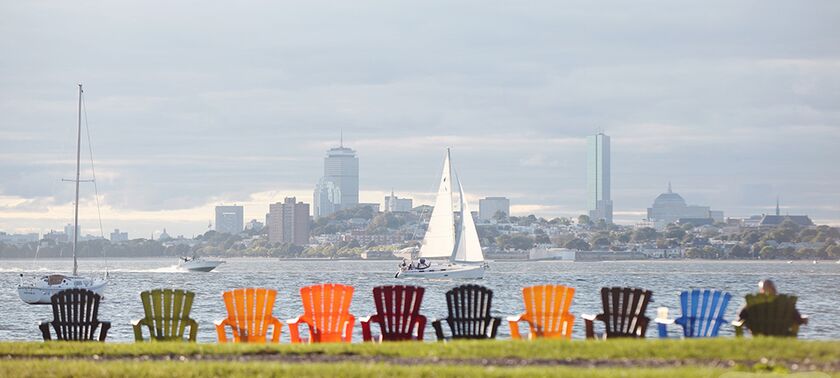 Saturday, September 1, 2018
3:30 PM
Attire: Cocktail
Ceremony and Reception
Thompson Island
Boston, Massachusetts
Let the celebrations begin!
- Ferry leaves at 3:30pm sharp from EDIC Pier, Boston, MA
- Ceremony starts after guests arrive ~ 4pm
- Cocktails, dinner & dancing to follow!
- 10pm ferry returns guests not staying on the island back to Boston
- 10:00pm Bonfire, dancing and more fun on the beach for guests staying on the island!
- Sunday, September 2, 2018 from 8-10am breakfast
- 11am ferry leave back to Boston for all remaining guests
*Note: the island is not high-heel friendly, so wedges and flats are encouraged
Wedding Party
Heather Johnston - Maid of Honor
I am so honored that Heather is able to be my Maid of Honor! Heather is not only caring and funny, but she has been an amazing companion, outfit assembler, text proofreader and cheerleader throughout all these years. In fact, the only sad part of this wedding is that she doesn't want to live with me once I'm married. Heather and I have have lived together for the past 4 years and I will miss her tremendously. I can't wait to build adjacent homes to one another in a few years (yes, this is the first she is hearing about this).

Morgan Lynch - Bridesmaid
Morgan and I met during Hingham High School field hockey tryouts and our adventures started that very day. Her ability to bring out my sense of fun is fantastic and her go-with-the-flow attitude is unparalleled. On our most recent trip together to Norway, the airline lost her luggage. So we pooled our resources and she MacGyvered her rain gear from garbage bags to protect her all the way to the top of our 5-hour hike in the pouring rain. Needless to say, we both looked flawless.
I am so lucky to such a fun, supportive and encouraging friend.

Liz Kessler - Bridesmaid
Liz and I met on the dance floor during Hamilton's freshman orientation as we were the only people aggressively dancing to a Fatman Scoop song. Throughout college, she continued to keep me weird, engaged in fun, exciting and only semi-illegal activities (the great ice cream heist of 2010 most notably). I feel so lucky to have a friend that understands me so well and that every phone call picks up the next time right where we left off the last time.
Erin Evans Oakley - Bridesmaid
Erin and I met during the second half of freshman year. She 100% got me through pledging as she whispered the answers into my ear during quizzes and kept me happy with her go-getter attitude. We also played rugby together, were roommates senior year and have continued a trend of dancing on top of tables, chairs and really anything off the ground together. I am so thankful for her friendship!
Val Hanson - Bridesmaid
Val and I were introduced during the second half of freshman year and she has kept me laughing ever since. We were in the same sorority together, played rugby together, roomed together, and annoyed Erin together. She's my technology guru, the most loyal friend, and, besides when she throws Goldfish at me to wake me up, I really like her.
Jane Barnard - Bridesmaid
Jane and I met during my last semester at Hamilton and her first. Although we were in the same sorority (yes, I made her join), I think our true friendship arose from our love of outdoor education and all the fun activities that have something to do with food. She was the reason I re-met Taylor in Boston... and a few years later, I am so fortunate to have such a wonderful person by my side to help me get married!
Leah Burland - Bridesmaid
I am so lucky to have Leah as my future sister-in-law. She is fiercely loyal to her family and has made me feel included since the first day I met her. Can't wait for more fun family time with her!
Ashbel Wall - Best Man
Ash and I met freshman year at Hamilton College where we were teammates on the football team and lived around the corner from each other in Dunham Residence Hall. Ash was also one of my roommates when Emily was our RA, so you could say he's been there from the beginning. Through the years since, Ash has always been an incredible friend and I couldn't be happier for him to be my best man.
Clay Masters - Groomsman
Clay and I met at Hamilton where we were in the same fraternity and were roommates...then we worked at Gelber Group together in Chicago...then we lived together in London. Basically Clay has been there for me at every other stage of my adult life and I'm very happy for the theme to continue at my wedding.
Jack Lewis - Groomsman
I met Jack his first day at work in London. Like most Americans, I was drawn in by the charming English accent and thus began a whirlwind bromance. Beyond his accent and wit, Jack is a great friend and I'm honored to have him stand with me as I get married.
Jason Brown - Groomsman
Jason and I met at Hamilton where a certain joie de vivre always seemed to bind us together. After college, whether it was in Chicago, Kansas City, the Kentucky Derby, London, or Boston, we always were able to find each other for a good time. I was able to stand up with Jason at his wedding and I'm looking forward to him returning the favor.
Richard Ferraro - Groomsman
There are certain people that just always make you laugh and smile. Richard is certainly in that category. It's hard not to enjoy yourself when you're around him. He's also an incredibly thoughtful person who I'm proud to call a friend as well as a cousin.
Ben Johnston - Groomsman
Ben is Emily's older brother. He has been extremely welcoming to me as I tried my best to become a part of the family and I'm thrilled to have him next to me as I finally make that a reality.
Tucker Johnston - Groomsman
Tucker is Emily's younger brother. He has always welcomed me into the Johnston family and I'm excited to call this kind soul my brother very soon.
The Officiant
Grady Vigneau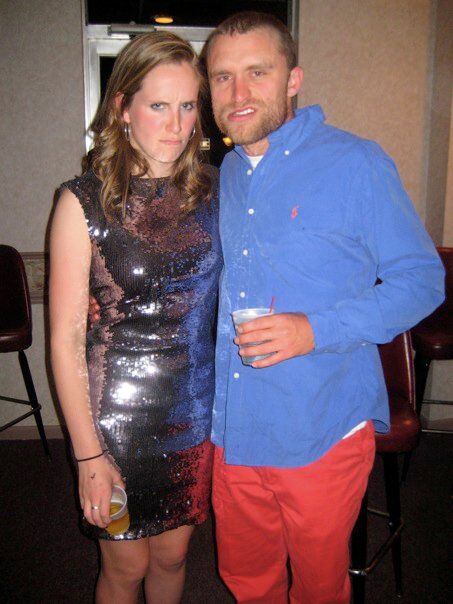 Grady and Emily met their first semester at Hamilton and they quickly became best buds. Although from Stowe, Grady spent the summers in Scituate, MA, so the pair could hangout all summer. Since college, they've lived all over the world, but have managed to continue to visit each other for some swimming, skiing, hiking and beer drinking fun.
Grady has encouraged and helped foster the relationship that Emily and Taylor have today and both can't wait to have such a sweet friend perform such an important part of the day!